---
AGENDA CPJPO
---
SAVE THE DATE
Beginning of the new season of the Ciné-Club CPJPO:
Friday, September 30: Film-debate screening
At 7:00 p.m. at the Altrimenti Cultural Center (details coming soon)
---
Saturday, October 22: Colloquium on anti-Semitism
From 9:00 a.m. to 5:00 p.m. at the Center Neimënster Luxembourg. Organizer: CPJPO
Since the Nazi genocide against the Jews, the term "anti-Semitism" has taken on a highly emotional connotation. In connection with the violence in the Middle East, this term is often instrumentalized politically. The discussions around the IHRA definition of anti-Semitism on the one hand and the "Jerusalem Declaration" on the other demonstrate the need for clear and objective terminology. It is in this perspective that experts will discuss in a contradictory way, in particular the effective prevention of racism and anti-Semitism. German-French simultaneous translation
---
LUXEMBOURG
---
Motion in the Chamber of Deputies
On May 17, 2022, MP Nathalie Oberweis (Déi Lénk) presented a motion inviting the government to recognize that the actions of occupation and colonization amount to a de facto annexation of large parts of the Palestinian territories and that this de facto annexation is in contradiction with international law and UN resolutions. The motion also called on the government to recognize the State of Palestine in accordance with the motion passed by the Chamber of Deputies in December 2014.
https://www.chd.lu/wps/PA_RoleDesAffaires/FTSByteServingServletImpl?path=707D5214D13A325A4C30ADAECD0D24DFB6BFC32FF2D892B434C92BF3062DBAB3060A134D2CB5230B5CF69B868C82C1D1$E278D9D0AE8B0A67D48EA5A0D28F8509
Video of Nathalie Oberweis' intervention:https://www.chd.lu/ArchivePlayer/video/3647/sequence/201252.html
On July 12 the motion was debated. All the parties except déi Lénk and d'Piraten (abstention) voted against. As usual, Claude Wiseler's intervention resembled political cant. He who always claims a position of "balance" in the face of the Foreign Minister who is too "unilateral and pro-Palestinian" in his eyes, he who puts the occupier and the occupied back to back, he quoted the 2021 Amnesty International report and did not spoke only of human rights violations on the Palestinian side, without saying a word about the AI ​​report on Israeli Apartheid. F Kartheiser, too, was in his role and took advantage of the microphone to bashing the victims and the rightsless. Jean Asselborn, for his part, found the right words to sum up the main violence on the ground since the beginning of the year.
Details and videos of the various interventions (in Luxembourgish) here:https://www.chd.lu/wps/portal/public/Accueil/TravailALaChambre/Recherche/RoleDesAffairesaction=doMotionDetails&id=3871&backto=p0/IZ7_28HHANET20F2A0A91N6L0M0CE3=CZ6_D2DVRI420G7Q402JEJ7USN3851=M/#Z7_28HHANET20F2A0A91N6L0M0CE3/%3E
---
Video: Jean Asselborn during a round table in Germany
In his video intervention, the Minister of Foreign Affairs speaks of a de facto illegitimate annexationhttps://www.facebook.com/watch/?v=447228827217084
---
Solidarity evening with Julian Assange in Luxembourg
On July 5, in front of a packed house at the Casino Syndicale de Bonnevoie, the film Hacking Justice was screened. The evening was supported by 11 organizations promoting human rights and peace, John Shipton, the father of Julian Assange, participated via video-conference and Viktor Dedaj moderated the debate. A collection of donations made it possible to pay €560 to Julian Assange's defense fund.
Note that Facebook refused 3 times to advertise the event : "Your advertisement has been rejected. This ad violates our advertising policies"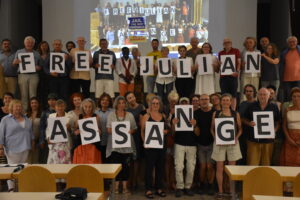 ---
OCCUPIED PALESTINE and ISRAEL
---
Press release from the AFPS
Joe Biden in the Middle East in the footsteps of Donald Trump
President Biden did not hesitate to adopt the warmongering postures of his predecessor in the White House. The common intention of the two leaders is to reorganize a new security configuration within the framework of an enlarged regional alliance of which Israel would be the pivot.
https://www.france-palestine.org/Joe-Biden-au-Moyen-Orient-sur-les-traces-de-Donald-Trump
---
Biden in the Middle East: A visit that has failed before it even starts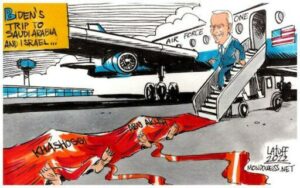 "Biden's policy on the Palestinian question will only lead to the perpetuation of the occupation and apartheid against the Palestinian people", Mustafa Barghouti
https://www.middleeasteye.net/opinion/us-middleeast-biden-visit-failed-before-it-starts
---
"Mr President, this is Apartheid"
For Biden's arrival in Palestine, the Israeli organization B'Tselem installs giant signs against Israeli apartheid
https://www.btselem.org/press_release/20220713_btselem_welcomes_president_biden_with_billboard_campaign_mr_president_this_is_apartheid
Video: https://www.youtube.com/watch?v=KbU6RjAcawE
---
Video: Will Israel join an Arab NATO?
"Many of these Arab US-backed tyrannies have long been not only in diplomatic ties with Israel but even in military and intelligence ties",Ali Abunimah
https://electronicintifada.net/blogs/ali-abunimah/will-israel-join-arab-nato
---
Democracy Now:US accused of whitewashing Israel's killing of Shireen Abu Akleh ahead of Biden's middle east trip
"Can one imagine (an US spokesperson) responding similarly if an Ukranian-American journalist had been shot by a russian military sniper in Eastern Ukraine?…. "
https://www.democracynow.org/2022/7/8/biden_middle_east_shireen_abu_akleh
---
Statement by the United Nations Secretary General
Israel could be placed on a 'blacklist' for the murders of Palestinian children,
In its annual report on children and armed conflict, the UN indicates that in 2021 Israeli forces killed 78 Palestinian children, mutilated 982 others and have held 637.
https://www.france-palestine.org/Israel-pourrait-etre-place-sur-une-liste-noire-pour-les-meurtres-d-enfants
---
Human Rights Watch
Gaza: Israel's "open air prison", 15 years already
The closure has devastated Gaza's economy, contributed to the fragmentation of the Palestinian people and is part of the crimes against humanity of apartheid and persecution against millions of Palestinians.
https://www.hrw.org/en/news/2022/06/14/gaza-prison-open-sky-israel-15-years-already
---
To be a peasant woman in Gaza.A documentary video in French
https://www.youtube.com/watch?v=xOwEX_ol-aw
---
Video: Marianne Blume testifies about Israeli Apartheid
Marianne lived for several years in Gaza, she explains to us the different laws put in place by Israel to discriminate against Palestinians.
https://www.association-belgo-palestinian.be/voyage-au-pays-de-lapartheid-10-10-marianne-professeure/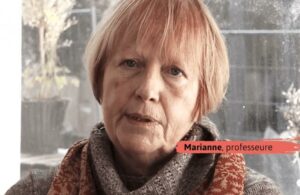 ---
Video: The Israeli Jewish Association Against Apartheid Addresses the International Community
"We refuse to accept the Jewish supremacist regime and call on the international community to intervene in defense of the Palestinians"
https://europalestine.com/2022/07/19/lassociation-des-juifs-israeliens-contre-lapartheid-sadresse-a-la-communaute-internationale-video/
---
The question of Western Sahara is on the agenda of the meeting, the Moroccan power having already taken advantage of the Pegasus spy system …
Israeli army chief in Morocco for first visit
The Rabat visit of IDF chief Aviv Kochavi reflects rapprochement between the countries on regional security cooperation.
https://www.al-monitor.com/originals/2022/07/israeli-army-chief-morocco-first-visit#ixzz7Zff9OIoq
---
EUROPE
---
Hijacking Memory
Wer erinnert warum? Eine internationale Konferenz zur politischen Vereinnahmung des Holocaust-Gedenkens.
An international conference on the instrumentalization of the Holocaust took place in Berlin from June 9 to 12, with personalities such as Avraham Burg, Omri Boehm, Omer Bartov, Jan Grabowski, Gilbert Achcar and many others. The many interventions to watch:
https://hkw.de/de/app/mediathek/project/191159-hijacking-memory
---
European Legal Support Center
Berliner Datenschutzbehörde macht RIAS/MBR für die Verletzung der Datenschutzrechte vondr.Esther Anna Younes verantwortlich
RIAS Berlin und MBR hatten ein geheimes Dossier über die deutsch-palästinensische Politikwissenschaftlerin erstellt, um sie so von öffentlichen Veranstaltungen auszuschließen. Dr. Younes hatte Beschwerde eingereicht.
https://senderfreiespalaestina.de/pdfs/Berliner-datenschutzbehoerde-zu-rechten-von-esther-younes.pdf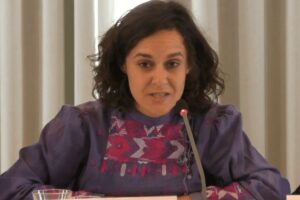 ---
Deleterious and nauseating climate in Germany …
Germany: Series of withdrawals after the cancellation by the Goethe Institute of the invitation of Mohammed Al-Kurd
https://europalestine.com/2022/06/30/germany-desistements-en-serie-apres-lannulation-par-linstitut-goethe-de-linvitation-de-mohammed-al-kurd/
---
Germany: failure to blackmail anti-Semitism
Palestinian journalist Maram Salim has just won her lawsuit against Deutsche Welle for unfair dismissal. The city of Stuttgart had to admit that it had illegally removed information about Palestine from its website.
https://europalestine.com/2022/07/18/germany-echec-au-blackmail-a-lantisemitism/
---
Press release from the French Jewish Union for Peace
UJFP: Why we will not commemorate the Rafle du Vél'd'Hiv' alongside the CRIF
"The genocide of the Jews concerns all of humanity and humanity today cannot only look in the rear view mirror. Our memory is active. She does not exploit the pains of the past to defend the unacceptable. »
https://ujfp.org/pourquoi-nous-nirons-pas-commemorer-la-rafle-du-veldhiv-aux-cotes-du-crif/
---
The Parliament of Catalonia recognizes that Israel is guilty of Apartheid.
With a historic resolution, the Parliament of Catalonia becomes the first parliament in Europe to publicly recognize that "the system applied by Israel to the Occupied Palestinian Territories is contrary to international law and amounts to the crime of apartheid as defined in the Statute of the Court international criminal law, article 7.2"
https://www.association-belgo-palestinienne.be/le-parlement-de-catalonne-reconnait-quisrael-est-coupable-dapartheid/
---
The Norwegian Confederation of Trade Unions reaffirms its support to BDS and highlights Israeli apartheid
On its congress held on 2 June 2022, the Norwegian Confederation of Trade Unions adopted a list of 14 concrete measures intended to hold Israel to account for its violations of international law and reaffirmed its support to BDS.
http://www.etun-palestine.org/site/2022/06/24/the-norwegian-confederation-of-trade-unions-reaffirmed-its-support-to-bds-and-highlighted-israeli-apartheid/
---
HUMAN RIGHTS, MEDIA and CULTURE
---
Trade and duty of care
Why Europe must ban trade with illegal Israeli settlements – a letter from a Palestinian farmer
"Our lands have been stolen to build Israeli settlements. Farmers are not allowed to enter their land when it is adjacent to the settlement. We also suffer from the theft of our agricultural crops by the settlers, especially during the olive picking… We hope that Europe will stop importing goods from the colonies and put in place laws prohibiting the importation of products from the colonies. »
https://agencemediapalestine.fr/blog/2022/07/06/une-lettre-dun-fermier-palestinien/?utm_source=newsletter&utm_medium=email&utm_campaign=ben_jerry_s_poursuit_en_justice_sa_maison_mere_afin_de_geler_les_ventes_en_israel&utm_term=2022-07-21
---
European Citizens' Initiative to end trade with illegal settlements
Sign the petition for the attention of the European Commission
https://justepaix.lu/stop-settlements-sign-up-fr/#Que-signez-vous
---
Ben & Jerry's sues parent company to freeze sales in Israel
Against all odds Ben & Jerry's is defending its decision to stop selling its ice cream in Israeli settlements on Palestinian land. The brand thus highlights its commitment to peace and social justice.
https://agencemediapalestine.fr/blog/2022/07/08/ben-jerrys-poursuit-en-justice-sa-maison-mere-afin-de-geler-les-ventes-en-israel/?utm_source=newsletter&utm_medium =email&utm_campaign=ben_jerry_s_poursuit_en_justice_sa_maison_mère_afin_de_geler_les_ventes_en_israel&utm_term=2022-07-21
---
Amnesty International Petition
Demand an end to targeted surveillance of human rights defenders
In July 2021, the consortium of journalists Forbidden Stories, with the support of Amnesty International, published an investigation revealing how the spyware Pegasus was used illegally by States to spy on human rights defenders, journalists and other members of civil society in many countries. The NSO group, which markets the Pegasus software, has its headquarters in Israel, nine of its entities are registered in Luxembourg.
https://www.amnesty.fr/petitions/surveillance-numerique-ciblee-non-au-big-brother?utm_campaign=pegasus&utm_medium=email&utm_source=emailing-action
---
Ripping up the evidence: How Israel maintains global impunity by Gideon Levy
From Chaim Herzog in 1975 to Gilad Erdan last year, Israeli officials have taken dramatic steps to avoid accountability for the state's crimes
https://www.middleeasteye.net/opinion/israel-global-impunity-maintained-how
Israel's Ambassador to the United Nations Gilad Erdan tears up a Human Rights Commission report on October 29, 2021 at UN Headquarters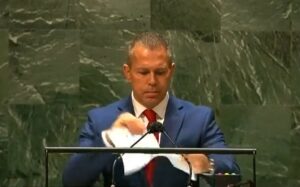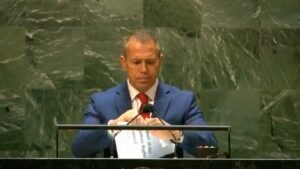 ---
Theater
The Palestinian scene between confinement and going beyond borders
Palestine on stageis the latest work by Najla Nakhlé-Cerruti, who has devoted her thesis and many years of fieldwork to contemporary Palestinian theatre. She realizes there a real inventory of a cultural heritage still alive and dynamic. Always resistant
https://orientxxi.info/lu-vu-endu/the-palestinian-scene-between-enclosure-and-depassement-des-frontieres,5742
---
Video to watch online
Palestine before the creation of Israel
Ashraf Mashharawi's film on Al-Jazeera (2021)
https://europalestine.com/2022/07/15/a-voir-un-film-dal-jazeera-sur-la-palestine-avant-la-creation-disrael-video/
---
Excellent film by Avi Mograbi in free access
Avenge but one of my two eyes. For only one of my two eyes. French subtitles.
https://www.youtube.com/watch?v=etcOdlXsxvE
---
Another look at the war in Ukraine and Julian Assange
'This is a war of propaganda': interview with John Pilger
"Julian is a journalist fighting for his life and for the right to have a real journalism able to publish the truth about governments"
https://www.youtube.com/watch?v=u9pEotvlW-s&t=11s
---
Ukraine niemals in die Nato?The Friedensforscher Dr. Daniele Ganser in Interview
Writing: Claude Gregoire