Dear friends of peace and justice,
For its 20th anniversary, the CPJPO is organizing this Saturday, June 18 from 3:00 p.m. its Day for Palestine, a march through the city followed by a poetic, culinary and musical evening. On Friday June 24, for the last screening of the season, the Ciné-Club will welcome the director of the film. On July 1, there will be a CPJPO meeting open to all to consider together the continuation of our commitment in favor of the rights of the Palestinian people. Come and bring everyone!
---
Saturday, June 18 from 3:00 p.m.: March for Palestine
Program : https://www.facebook.com/events/2196154353868012
3:00 p.m. Departure of the March (Place de la Constitution –  Bei der gëlle Fra )
6:00 p.m. Arrival at the Bonnevoie cultural center (rue des Ardennes, L-1133 Luxembourg)  Culinary stands, events, dances, official speeches, retrospective on the work of the CPJPO
7:30 p.m. Palestinian poetry with musical accompaniment – Jean Portante and Lex Gillen
8:30 p.m. Marwan Abado
9:30 p.m. Concert of the group Labess.
---
Friday, June 24 at 7:00 pm:  "La clef du Sol" , a film by Muriel Jacoub.
Within the framework of the Cine-club. At the Altrimenti Cultural Center, 5 Av. Marie-Thérèse, 2132 Luxembourg. In the presence of the director.
A documentary film on the meaning of roots, the symbol of the key and the hope for the Palestinians to return to their land.
https://altrimenti.lu/activites/documentaire-la-cle-du-sol/
---
Friday, July 1st, 6:30 p.m.: CPJPO meeting  open to all members and supporters.
At CPJPO headquarters, 136 Rue Adolphe Fischer, 1521 Luxembourg. Show on the map.
---
Tuesday 5 July at 7:00 p.m.:  "Hacking Justice" , a film about  Julian Assange
At the Casino Syndical de Bonnevoie, 63 Rue de Bonnevoie, 1260 Luxembourg
Documentary film directed by Clara López Rubio and Juan Pancorbo, 2021, 90 min, English OV – French subtitles
A FILM on the fight of the century for the right to inform and to be informed. The documentary will be followed by a debate moderated by Viktor Dedaj, reference on the Julian Assange case. Live live connection with John Shipton, father of Julian Assange. The CPJPO, in coordination with other associations, supports this evening 
More info: https://paixjuste.lu/hacking-justice/ 
Watch the trailers:  https://www.lesmutins.org/hacking-justice-julian -assange
Parlamentary questions relating to the possible extradition of Julian Assange to the USA by the Member of Parliament Nathalie Oberweis, Luxembourg on June 8, 2022.
---
With our friends from Lorraine
Wednesday 22 June: SOLIDARITY GAZA evening 
Meeting and testimonial with Véronique HOLLEBECQUE, coordinator of the Gaza working group of the AFPS, back from a stay in Gaza.
At 7:00 p.m. at the Salle du Manège – rue du Manège in Thionville
The meeting will begin with an aperitif dinner for which it is necessary to book with AFPS Thionville  –  afpsthionville@yahoo.fr  or tel. 0680997153 
---
Organized by the Cinémathèque de Luxembourg
Sunday 19 June at 5:30 p.m.:  "Les Citronniers",  2008 Israel, Directed by  Eran Riklis,  1h46 with  Hiam Abbass ,  Rona Lipaz-Michael ,  Ali Suliman.


Salma lives in a small Palestinian village on the border between the West Bank and Israel. His lemon plantation is considered a threat to the security of his new neighbor by the Israeli Minister of Defense… Audience Award for Best Film, Berlinale 2008.
---
---
OCCUPIED PALESTINE and ISRAEL
Israel, occupying power and Apartheid regime, decides on new restrictions on entry into the Palestinian Territories.
The danger of Israel  's new restrictions on travel to the West Bank, by Michael Arria and Yumna Patel
From July 5, Palestinians who hold foreign passports will be subject to intrusive restrictions. "It's apartheid in action: if a Palestinian American and a Jewish American arrive together in the West Bank, the Palestinian will be treated differently from the Jew."
Announcement – State of Palestine Media Brief
Further Israeli restrictions to the entry of foreign nationals to the occupied State of Palestine 
"The State of Palestine rejects all Israeli restrictions, stating that any recognition of regulations such amounts to recognition of Israeli sovereignty in occupied Palestine…. By controlling Palestine's population registry and access to our country, the Israeli occupation is perpetuating an apartheid regime that denies the Palestinian people their inalienable rights." 
UN report accuses Israel of main cause of conflict with Palestinians
Israel's occupation and discrimination against Palestinians are the main causes of the endless cycles of violence, UN investigators said Tuesday, prompting angry Israeli protests.
Ocha: Demolition of a building in East Jerusalem may leave 74 Palestinians homeless
A building of 12 housing units is at imminent threat of demolition in Wadi Qaddum area of ​​Silwan neighbourhood, in East Jerusalem. 32 adults and 42 children would then be forcibly evicted. Since the beginning of 2022, 300 structures have been demolished or seized across the West Bank, including East Jerusalem.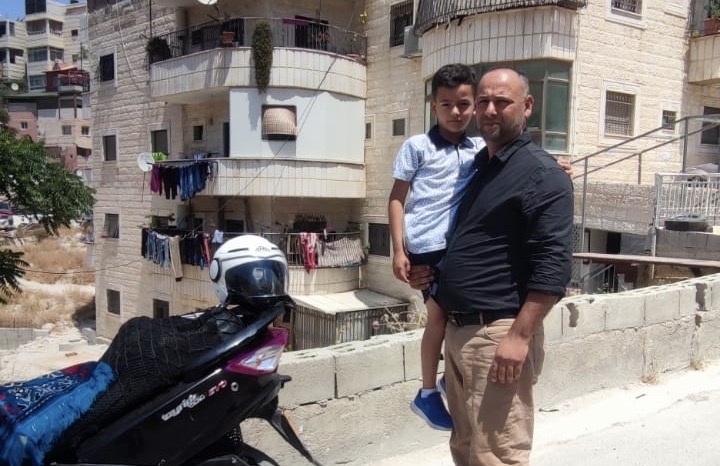 ---
Watch : Inside Israeli Apartheid
This 22-minute video subtitled in French illustrates, in an educational way, the violence of the control that Israel exercises over the Palestinians – both in Israel and in the territories. An overview of an apartheid system.
New evidence suggests Shireen Abu Akleh was killed in targeted attack by Israeli forces
The cameraman filming the scene scrambles backwards to take cover behind a low concrete wall. Then a man cries out in Arabic: "Injured! Shireen, Shireen, oh man, Shireen! Ambulance!"… Read more
DCI : 14 Palestinian children killed since January
The non-governmental organization Defense for Children International (DCI-Palestine) has reported that 14 Palestinian children have been killed by Israeli forces since the beginning of 2022.
Three months of additional administrative detention against Salah Hamouri
Human rights lawyer, activist, Palestinian and French national, Salah Hamouri is kept in a cell without any charges being brought against him. It is the arbitrariness of a regime that wants to break those who dare to challenge it.
Call for killing Arabs condoned by Israel's Armed Forces, Palestinian flag no
The sad sight of excited Zionists outside Damascus Gate in occupied Jerusalem
Video:  https://www.facebook.com/Activestills/videos /346584377616429
Palestine. Since 1967, Israel has erased the"green line" , by Baudouin Loos (in french)
The armistice line delimited an unofficial border between the belligerent Arabs and Israelis between 1949 and 1967. After the June 1967 war, Israel, which notably annexed East Jerusalem and occupied the West Bank, sought to erase this "green line". Except for Palestinians under occupation.
The silent plight of Palestinians in Lebanon (in french)
The unprecedented economic and social crisis in Lebanon threatens to dismantle the refuge that Palestinians living in the country have taken decades to build.
A rare Palestinian note sells for more than $ 170,000.
---
---
EUROPEAN UNION
Belgium is studying the banning of products from settlements
Belgium is studying the possibility of banning products from Israeli settlements in the Palestinian Territory, Prime Minister Alexander De Croo said in response to questions from several MEPs
Germany guarantees the impunity to Israel – despite the death of 6 German citizens in Gaza
Germany allows Israel to kill its citizens with impunity,  by Ali Abunimah
The German federal prosecutor has decided not to open an official investigation into the airstrike of the July 21, 2014 against the  al-Salam tower  in  Gaza, in which Ibrahim Kilani, his wife Taghreed and their five children aged between 3 and 11, among others, were killed.  Ibrahim  and the children  – Elias, Yasser, Yasin, Sawsan and Reem  – were all German citizens.
Was the EU's response to Shireen Abu Aklek's funeral enough? Par Sami Abu Shehadeh.
"In 2022 the voice of Israeli settlers seems to be more considered by some in Brussels than what Amnesty International says about Israeli apartheid policies".
---
MEDIA
Video : Journalist Abby Martin slams US Secretary of State Blinken 
"Why aren't Israel or Saudi Arabia held to account for murders?"
Israel-Palestine where are we? There if I am there made the point and realizes that the question Israel-Palestine does not appear in the electoral program of the new coalition NUPES .
And Palestine, by the way?
Apart from Ukraine, the whole world is totally absent from the concerns of the French leaders in the campaign. Even recent events like the death of American-Palestinian journalist Shireen Abu Akleh only elicit timid reactions from countries like France. Will this change when Mélenchon becomes prime minister?
ARTE documentary  : "The first 54 years" 
Avi Mograbi dissects the cogs of Israel's hold on the occupied Palestinian territories. The  film by  Israeli documentary filmmaker Avi Mograbi involves former soldiers who recount the abuses they committed in Tsahal uniform, encouraged by their superiors: arrests, torture, searches, collective punishments, expropriations, destruction of houses. Archive images intersect these testimonies and reveal the underside of an occupation that has lasted fifty-four years.
France-Culture :  Jewish-Arab, how I reconciled myself with my identities 
Cléo Cohen wonders about the possibility of saying, thinking and living Jewish-Arab today. From the descendants of the North African Jewish diaspora to those who remained in the country, she revisits the history of colonialism, Zionism and Arab nationalisms, from Paris to Tunis.
---
---
Copyright © 2022 CPJPO, All rights reserved.
Lettre Info

Our mailing address is:
CPJPO
136-138 rue Fischer
Luxembourg 1521
Luxembourg